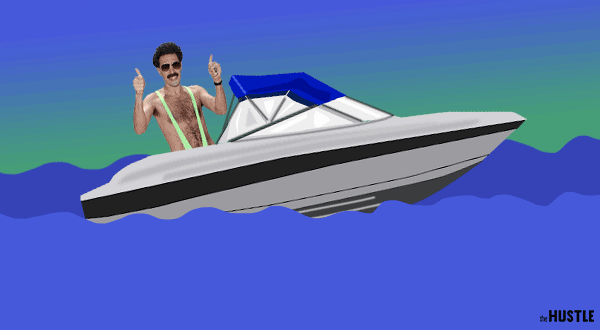 Boat sales went through the roof this year! The pandemic has had a devastating impact on car and airplane sales. Between travel restrictions and reduced domestic mobility, dealerships and major manufacturers in both sectors have seen some of their biggest dips since the Great Recession. But out on America's waterways, another mode of transport has thrived…

Boats are booming. According to a report by the National Marine Manufacturers Association (NMMA), sales of boats and related marine gear hit $47B in 2020 — a 9% bump from 2019, and a 13-year high. Per the Boating Industry, all types of big-boy water toys saw a bump in 2020: Freshwater fishing boats and pontoons: 143k units (+12%)Personal watercraft (Jet Ski, Sea-Doo): 82k units (+8%) Wake boats: 13k units (+20%)

Who's buying?
Experts say this trend has largely been buoyed by first-time boat buyers, many of them on the younger side — a demographic that hasn't historically been the industry's strong suit. As it turns out, boating enthusiasts aren't as niche of a community as one might expect. Per NMMA:100m Americans report going boating every year, making it one of the most popular outdoor recreational activities in the US.61% of boaters earn <$75k in household income/year. Collectively, these boaters make up a $12B/year industry — and ~4.3k boat dealers exist to cater to their needs.

Why boats?
Boats weren't the only form of recreational transport to spike last year: Bicycles, RVs, and electric scooters all sold like hotcakes. But boats in particular seemed to benefit from a perfect storm of more flexible remote work schedules, travel restrictions, and timing (boating "season" is generally considered to run from April to October, which coincided with 2020 lockdowns). The only people having more fun than the boaters themselves are the people who bought boat-related stocks last March.