"The super yacht industry is poised for growth" – Forbes.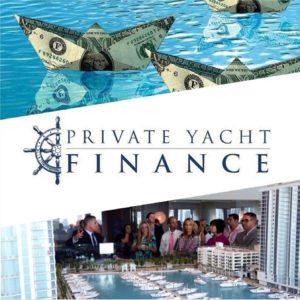 Meanwhile the boating industry sources say sales have been increasing steady by 4% in the couple last years, the ability to get a yacht loan has decreased by 25%. Thus M&M Private Lending Group's specialty in yacht lending has become solution for the costumers who find themselves in the following scenarios or similar.
Cash out of late model yacht
Successful business man in Ft Lauderdale, Florida needed a small cash infusion into another business venture. His current assets were all tied up in performing stocks and bonds but and he owned a 2001 Lazzara Yacht. We were able to loan $300,000 against a $650,000 liquidation value so borrower got the fast cash he needed that was tied up in his yacht.
Non US Citizen/Foreign Owner example
Borrower was from South America and having difficulty obtaining a bank yacht loan due to traditional bank asking for too much documentation. Borrower was wealthy but earned most of his money overseas and his financials were not documented well. Borrower had resided in the United States for many years and owns a few condos he rents out and a home he lives in. We extended $500,000 against a purchase of a 2016 Azimut with a purchase price of 1.4 million.
Unverifiable Income
Borrower was having difficulty obtaining a traditional loan approval as a result of his inability to verify enough taxable income to substantiate the loan advance. The borrower had a decent credit score and had accumulated a significant amount of cash. As a result of these factors, alternative lender advanced $450,000 against a newer year Sea Ray with a purchase price of $900,000.
Non-Traditional Boat Use example
Borrower was having difficulty obtaining a traditional loan approval because he intended to utilize the boat as a charter vessel in south Florida. Borrower had excellent credit and liquidity. As a result of these factors, we did a first Lien mortgage of $400,000 against a purchase price of $800,000.
For more information visit Private Yacht Finance.